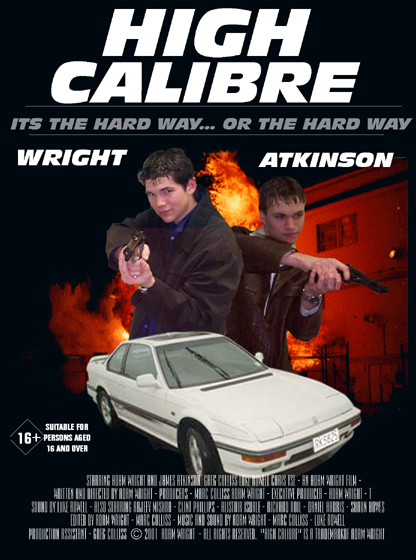 IT IS COMPLETE
THE MOVIE THAT WILL CHANGE THE WHOLE WORLD OF AMATUER FILMS
WHEN JACK GIBSON ISMURDERED ON A ROUTINEUNDERCOVER OPERATION (BY BLOWING HIS OWN COVER) LONG TIME BUDDY COP PARTNERS CHUCK HARDWAY (ADAM WRIGHT) AND STEVE JUSTICE (JAMES ATKINSON) ARE SENT IN TO PICK THINGS UP WHERE HE LEFT OFF ,AFTER TRACKING DOWN THE WORLDS MOST DEVIOUS SNIPER FLAVIO VIALLI (GREG COLLISS) STEVE IS TRAGICALLY SHOT,.... THE CASE IS STILL WIDE OPEN... FIND OUT THE THRILLING AND HILARIOUS CONCLUSION WITH HIGH CALIBRE!
AVAILABLE ON VHS,DVD.
VHS-$5
DVD- $15
ALSO AVAILABLE ON THE HIGH CALIBRE COLLECTORS DVD.




24/9/01 - PRE PRODUCTION WORK NEARS COMPLETION
30/9/01 - FIRST ASSEMBLY OF ALL CAST, READ THROUGH OF SCRIPT
31/9/01 - FILMING BEGINS
21/11/01- FILMING FINISHED
22/11/01- EDITING BEGINS
07/12/01- PRODUCTION FINISHED -SHELVED FOR COMPETITIONS





IN THE YEAR 2000 A MOVIE WAS MADE
THE TOOLS WERE THE BEST AVAILABLE TO THE AMATUER FILM MAKER ,A SONY DIGITAL HANDYCAM AND AN APPLE DViMAC .SADLY THE ITEMS USED DID NOT BELONG TO THE FILMS PRODUCTION TEAM AND WORK ON IT WAS WRAPPED UP EARLY DO TO LACK OF DECENT EQUIPMENT.
BUT FINALLY THE DAY HAS ARRIVED. A GENERATION WILL NOT BE DEPRIVED. THE MOVIE HAS BEEN RE-MADE. A SNAPPIER SCRIPT, UPDATED EQUIPMENT AND A DEDICATED CREW OF OLD FAVOURITES AND NEW SHINING STARS. IT IS HERE .IT IS THE BEST IN ITS CLASS. IT IS... HIGH CALIBRE